Dr. Sampath Seneviratne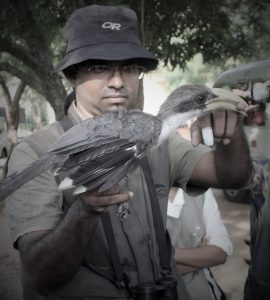 Consultant Scientist – Molecular Biogeography, Evolution and Ornithology,
Senior Lecturer in Zoology – Department of Zoology and Environment Sciences
Faculty of Science, University of Colombo,P.O. Box 1490, Kumaratunga Munidasa Mawatha,
Colombo 03,Sri Lanka
Phone: +94-710-821177; Fax: +94-112-583148
ResearchGate Profile: https://www.researchgate.net/profile/Sampath_Seneviratne
Previous academic positions
Postdoctoral Fellow – Natural Sciences and Engineering Research Council of Canada, Industrial R&D Fellowship (NSERC – IRDF) – (2011 – 2012)
Bird Studies Canada, Pacific Wildlife Research Centre, 5421 Robertson Road,
Delta, BC, V4K 3N2, Canada
Supervisors: Dr. Robert Butler (Bird Studies Canada), Dr. Darren E. Irwin and Dr. Kathy Martin (University of British Columbia)
Temporary Assistant Curator (Tetrapods) – (April – Dec. 2010)
Beaty Biodiversity Museum, UBC, Vancouver, British Columbia, Canada
(Supervisors: Dr. Darren E. Irwin, Dr. Eric B. Taylor and Dr. Wayne Maddison)
Postdoctoral Research and Teaching Fellow – (Jan 2009 – Dec. 2010)
Department of Zoology, UBC, Vancouver, BC
(Supervisor: Dr. Darren E. Irwin)
Education
Ph.D. (Evolutionary Ecology)
Memorial University, St. John's, NL, Canada – (2004 – 2008) – passed with a Distinction
Dissertation: On the evolutionary and ecological significance of ornamental traits: The function and variability of the acoustic and visual displays in Aethiini
(Supervisor: Prof. Ian L. Jones).
B.Sc. (Zoology major) Stream of specialization: Immunology and Parasitology
University of Colombo, Colombo, Sri Lanka – (1998 – 2002) – Passed with a First Class Honors
Dissertation: Specificity of ecto-parasites of cave-dwelling chiroptera in selected cave roosts of Sri Lanka (Supervisor: Prof. Preethi V. Udagama).
Research Experience
PI – Mechanisms of generating endemicity in Sri Lanka (2013 – to date)
I study the evolutionary ecology of Sri Lankan endemic birds and their close phylogenetic relatives in Sri Lanka and in the South Indian region (Flaming misteries. Sanctuary Asia).
Postdoctoral researcher on the biogeography and speciation of woodpeckers (2009 – to date)
I studied the hybrid zones of woodpeckers in western North America (Sapsuckers Sphyrapicus) and in Asia (Flamebacks Dinopium and Chrisocolaptes) to determine the genomic regions associated with gene flow and to establish hybrid zones as bioindicators of environmental change (Caught in the Middle. American Birding; British Columbia: A hot spot for hybrids. Birdwatch Canada).
Designed and conducted research on the evolutionary ecology of north-Pacific seabirds (Auks, Alcidea) in Aleutian Islands, Alaska, USA (2004 – 2008)
To determine the underlined selection forces of ornament expression in a clade of sub-arctic seabirds (Family Alcidae) I studied Auklets in Aleutian Islands, Alaska and other alcids in the Labrador, Canada. This study established a novel mechanism for trait evolution in birds. (Bird uses 'whiskers' like a cat – facial feathers are more than just decoration. 2008. Nature (the headline of the Nature website in March 14-20, 2008); Feelers. 2008. Smithsonian Magazine. Smithsonian Institute, USA; Seabird evolved head feathers as sensory device. 2010. NewScientist. http://www.newscientist.com/article/dn18662-seabird-evolved-head-feathers-as-sensory-device.html; Auklets and penguins: birds use feathers 'to touch'. 2010. BBC News. http://news.bbc.co.uk/earth/hi/earth_news/newsid_8500000/8500620.stm)
Studied the ecology of cave-dwelling bat parasites in Sri Lanka (2002 – 2009)
My studies on bat ecto-parasites at the University of Colombo in early 2000's resulted in discovery of two new species of parasitic mites (Chiroptella kanneliya and Nyosomia ratnasooriyai) – Brown, Udagama-Randeniya & Seneviratne 2003. International Journal of Acarology 29: 69 – 73.
With my coauthors I proposed a mechanism for the evolution of host-specific parasites in islands (Seneviratne et al. 2009. Int. J. Parasitology 39: 995 – 1002).
Collaborative sound recordist for the Macaulay Library of Natural Sounds, Cornell Lab of Ornithology, New York, USA (2006-todate)
Biologist for seabird monitoring in the Bering Sea, Alaska (2005 – 2006)
Worked for the US Fish and Wildlife Service as a volunteer Seabird Biologist in
Bogoslof, Ulak, Pribilof and Buldir Islands in the Bering Sea, Alaska as part of my fieldwork for PhD research project.
Conducted fieldwork on the breeding ecology of Atlantic Puffin (Fratercula arctica) in Gannet Islands, Labrador, Canada (2004)
Contributor to the Annual Asian Waterfowl Census (Asia), Christmas Bird Count and the BC Breeding Bird Atlas (Canada)
Surveyed birds for the Christmas Bird Count conducted by the Bird Studies Canada in collaboration with the National Audubon Society, USA (2004 – 2005), and Asian Waterfowl Censes, conducted by the Ceylon Bird Club in collaboration with Asian Waterfowl and Wetland Research Bureau and Wetlands International (1994 – 2004).
Field Assistant (four summers from 1999 – 2002)
In a project on the social behavior of false-vampire bat (Megaderma lyra) in Sri Lanka conducted by the Institut für Zoologie, Tierärztliche Hochschule Hannover, Germany (PI; Dr. Sabine Schmidt and Prof. Wipula Yapa).
Teaching
Senior Lecturer (Gr.II) – Department of Zoology, University of Colombo
Teach Molecular Ecology*, Conservation Genetics*, Vertebrate Biology*, Ornithology*, Evolution & Phylogeography, Functional genomics, and Animal Form and Function (*serve as the course coordinator)
Developed new courses on Conservation Genetics, Managemnt of genetic resources and Molecular Ecology
Sessional Lecturer – Department of Zoology, University of British Columbia, Canada
Taught Biology 404: Ecological Methodology (January-April 2010).
Duties: Designed the course outline, prepared lecture notes, conducted weekly lectures, designed and taught in weekly laboratory classes, planed and conducted field trips, and marked reports, research proposals and final exams.
Invited guest lecturer for Biology 427 – Ornithology and Herpetology (2009 – 2010)
Department of Zoology, UBC.
Completed 2 courses on university level teaching: Teaching Opportunity for Graduate Assistants (TOGA) (2006-2007) and Certificate of Teaching in Higher Education (CTHE) (2013)
Graduate Teaching Assistant (2004 – 2008)
Department of Biology, Memorial University, St. John's, Canada.
Courses taught: Ornithology, Entomology, Insect Systematics and General Biology (Levels 1 & 2).
Duties: taught in weekly laboratory classes, conducted introductory presentations in Entomology and Insect Systematics, conducted Entomology fieldtrips, marked reports and final exams.
Exam invigilator and marker (2007 – 2008)
Other Experience
Assistant Curator (Tetrapods), Beaty Biodiversity Museum (April – Dec 2010)
Duties: I was hired to establish a DNA collection for the Beaty Museum and expand the existing osteology collection.
Also performed curatorial duties for the bird collection that include collection management (of over 20,000 specimens), specimen preparation for the research collection, pest management, conduct laboratory classes for student taxidermists and public outreach.
Mentor
A mentor for the University of Colombo's Career Guidance Unit 2013 – todate
A Science mentor for the Vancouver Science Fair and the gifted education programme organized by the Vancouver School Board and the City of Vancouver (2009 – 2011).
Conservation and environmental education
Amateur documentary filmmaker, wildlife painter, birder, taxidermist and a recreational boater